Residential Locksmith in Fairfax, VA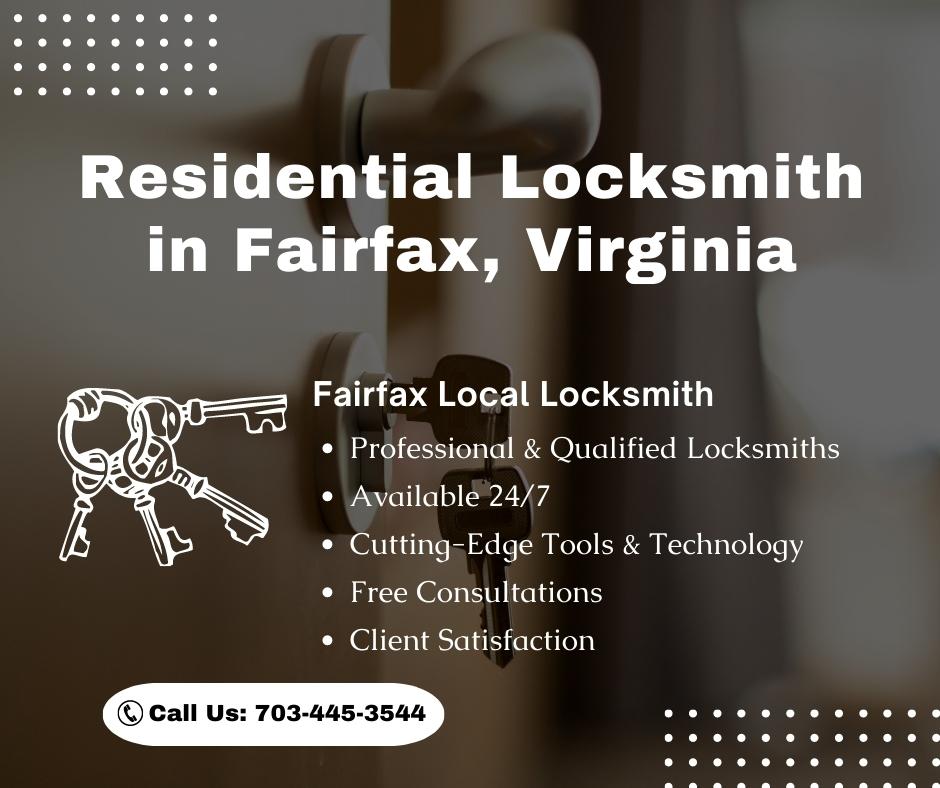 Fairfax Local Locksmithis a professional locksmith service provider that provides a comprehensive variety of residential locksmith services. We have a team of professional and qualified locksmiths specializing in residential lockouts, lock repairs, rekeying, key duplication, security system installation, and other related services. Whenever an unexpected event occurs, you should call us for help. Our staff is available around-the-clock, seven days a week, and is armed with cutting-edge tools and technology to do the job as quickly and efficiently as possible. We also provide free consultations to assist you in making an educated choice regarding your security requirements. Our professionals try to give the best degree of client satisfaction via timely and dependable service.
Lock installation and repair
If you have damaged or outdated locks, it is essential to have them repaired or replaced as soon as possible. Not only can faulty locks be a security risk, but they can also be a hassle to deal with daily. For example, it can be frustrating and time-consuming if you have a problematic lock to open or close. In addition to providing security, lock installation and repair services can also increase the value of your home. New, high-quality locks can make your home more appealing to potential buyers and even help you get a higher price when you sell. Choosing a reputable and experienced locksmith is essential to ensure the job is done correctly. AtFairfax Local Locksmith,our experienced technicians are available to advise on the best security solutions for your home or property and quick and efficient service for any lock-related needs.
High-security locks
High-security locks are typically more expensive than standard locks, but they offer a higher level of security that can be worth the investment. These locks are often made from more robust materials and have more complex locking mechanisms that are more difficult for burglars to pick or bypass. In addition to providing security, high-security locks can also provide peace of mind. Knowing that high-quality locks protect your home can give you greater confidence in the security of your home, allowing you to relax and enjoy your time there. Our state-of-the-art locks and security systems at Fairfax Local Locksmith are designed to provide maximum protection against theft, vandalism, and other threats.
Rekeying of existing locks
Fairfax Local Locksmithprovides residential rekeying services to ensure your home's security. Rekeying involves altering a lock requiring a new key to open it. This is ideal if you want to change the locks without replacing them or if you've just moved into a new home and want to ensure that no one else has a key.
Rekeying your locks can be a vital step in ensuring the security of your home. Rekeying your locks might provide you peace of mind if you've misplaced your keys or are worried about them falling into the wrong hands. It can also be a cost-effective alternative to replacing all your locks, which can be expensive and time-consuming. In addition to providing security, rekeying your locks can also be convenient. If you have multiple locks on your doors, rekeying them all to work with the same key can make managing and keeping track of your keys easier.
Home lockout services
We understand that being locked out of your home is a frustrating and inconvenient experience. Whether you are locked out of your home due to a lost key, broken lock, or any other issue, we can help. No matter what type of lockout you're facing, our team can help. Our experienced technicians offer comprehensive home lockout services to get you back in your home quickly and safely.
Security door installation
Fairfax Local Locksmith is an expert in the installation of security doors. In choosing the best security door for your home, you may rely on our staff's years of expertise. Steel, aluminum, and composites are just some of the materials we provide. Our doors are equipped with several security elements, including sturdy frames, several locks, and anti-jimmy plates, to ensure the safety of your home or business. We understand how crucial it is to have top-notch installations completed for your loved ones' safety at home. Each of our professionals has years of experience and formal education in installing security doors to the highest standards. Regarding safety, we don't cut corners and always go above and beyond what's required by law.
Safe installation and repair
We know how important it is for you to have a secure place to store your valuables, paperwork, and other private stuff. That's why we provide professional, safe installation and repair services to ensure that your belongings are always secure. We offer various safe installation and repair services, from basic installations to more complex repairs. Our technicians are highly experienced and trained to properly install and repair all types of safes, including wall safes, floor safes, deposit safes, and gun safes. We also troubleshoot and repair electronic, combination, keypad, and biometric locks.
Mailbox locks
The primary purpose of residential mailbox locks is to keep your mail safe and secure. Mailbox locks are designed to be tamper-proof and challenging to break into. For added security, many mailbox locks come with keyless entry, combination locks, and even fingerprint readers. These features ensure that your mail is safe from unauthorized access. Our residential mailbox locks come in various styles and sizes and can be customized to fit your needs. Whether you need a mailbox lock for a single-family home or an entire apartment complex, there is a residential mailbox lock that will suit your needs.
Contact Us
To the residents of Fairfax and the surrounding areas, Fairfax Home Locksmith is committed to becoming your go-to residential locksmith service. Our service experts are prompt, reliable, and kind, and our costs are low. You may reach us at 703-445-3544 if you have any inquiries or want more information about our services. It would be our pleasure to assist you in making your house safe and secure.