Car Locksmith in Fairfax, VA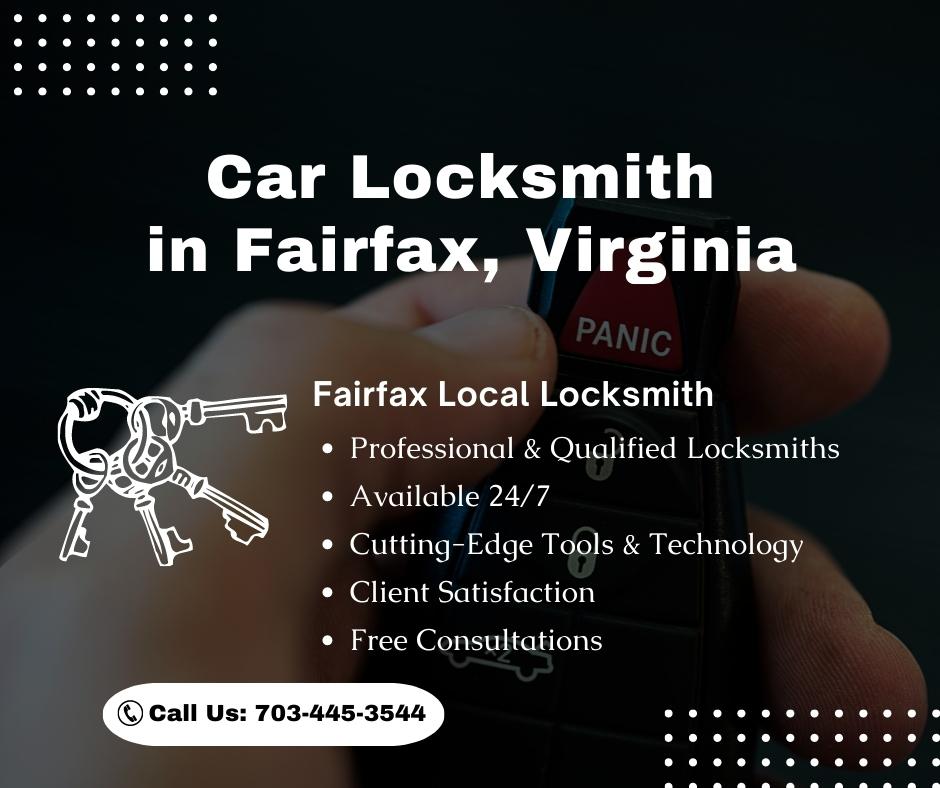 Fairfax Local Locksmithprovides the best locksmith services for automotive and residential needs. We specialize in car key replacements, transponder key programming, ignition repair, re-keying, lockout service, broken key extraction, and more. Our experienced technicians are available 24/7 to ensure you are never stranded. Ensuring you're satisfied is our first goal, and we'll go the extra mile to get there. Whether you need emergency services or scheduled appointments, we have the solutions you need.
Emergency Car Door Lockouts
Although inconvenient, being locked out of your automobile at some time is usually unavoidable. Fortunately, since this occurs so often, there are many solutions available. On the other hand, a vehicle locksmith may be able to pick the lock of the door or trunk, depending on where the keys were left, while repairing this problem. After the matter has been settled, it is essential that you get a new or spare automobile key created. It is vital to have a dependable car locksmith service on hand in an emergency. Our mobile vehicle lockout services can assist you in under half an hour. Our vehicle locksmith pros have you covered no matter where you are in the United States.
Ignition Switch Replacement
It may not be easy to believe, but if a vehicle requires a new ignition module or other ignition replacement component, a locksmith may replace it on the spot. This is time-consuming to do on-site, but a locksmith is prepared with all the required tools and equipment to modify wherever you are. Not only is it possible to replace the complete vehicle ignition switch component on the spot, but extracting a damaged key from a car door or ignition is also one of the most common services provided by our auto locksmiths.
Car Door Lock Repair
Locks and keys deteriorate with time and cease to function correctly. This may be caused by various factors, including something as simple as a piece of road debris caught in the lock. In this instance, one of our vehicle door locksmith professionals will be able to quickly diagnose the issue and fix the damaged or jammed lock.
Stuck Key Removal From Locks & Ignitions
Stuck key removal is a service that helps to extract keys that have become stuck or lodged inside locks or ignitions. There are several potential causes, including a broken or non-working key, unclean locks or ignitions, or a botched combination. The process of removing a stuck key can be complex and may require specialized tools and expertise. Our professional locksmith or mechanic will be able to assess the situation and determine the best course of action to safely remove the key without causing any further damage to the lock or ignition. Disassembling the lock or ignition to free the trapped key is time-consuming.
Car Key Cutting
Car key cutting is a service that creates a new key for a car. This can be necessary if you have lost your car keys, if your keys have become damaged or worn, or if you need an additional set of keys for another driver. Car key cutting can be done in various ways, depending on the make and model of your car. Some keys can be cut by a locksmith using a physical key-cutting machine, while others may need to be programmed using specialized equipment. Some newer car models may even require a transponder key, which contains a small chip that communicates with the car's engine control unit and must be programmed to start the car. At Fairfax Local Locksmith, our professionals will be able to determine the best method for cutting a new key for your car.
Break-In Repair For Locks
Finding a reliable locksmith who can provide break-in repair services for your home or business is essential. Break-ins can cause considerable damage to locks and door frames, making them difficult to use. Fairfax Local Locksmith can evaluate the extent of the damage and repair it quickly and efficiently. We may also suggest additional security measures to protect against future break-ins. We also offer a warranty on their work, so you can rest assured that they provide quality service.
Transponder Key Reprogramming & Replacement
Transponder key reprogramming & replacement services are essential for many car owners. Transponder keys are electronic devices that use a radio frequency signal to authenticate car access, and they must be routinely reprogrammed when lost or replaced. We can help car owners quickly and easily get their new key up and running. These services often include programming the new key with the correct security codes and providing a copy of the original key if needed. Our reprogramming and replacement services can also help car owners save time by avoiding costly trips to the dealership. To further ensure proper and secure execution of the project, these services often include a guarantee. Auto owners may relax knowing that their cars are safe and accessible with the help of transponder key reprogramming and replacement services.
Key Fob Programming
In the automobile sector, fob keys have mostly replaced conventional vehicle keys. Fob keys, also known as keyless entry remotes, are convenient and, in many cases, tiny enough to put in your pocket. This might explain why they're so easy to misplace or lose. You may contact Fairfax Local Locksmith to reprogram a new key fob. Your keys or fobs may be easily programmed. Therefore we've put together this tutorial for fob key programming instructions to assist you.
Frozen Lock Services
Frozen lock services are designed to help people who are unable to open their car or house doors due to locks that have become frozen or stuck. This can be a common problem in cold weather, as the moisture in the air can freeze and cause the lock mechanism to malfunction. A frozen lock can be extremely frustrating and may prevent you from getting into your car or home. To fix a frozen lock, our professional locksmiths will use specialized tools to thaw the lock and lubricate it to prevent it from freezing again in the future. In some cases, the lock may need to be replaced if the freezing temperatures have damaged it. It is essential to address a frozen lock as soon as possible, as attempting to force it open may cause further damage.
Contact Us
We appreciate you taking the time to learn about our vehicle locksmith service. If you have any questions or require our assistance, please feel free to get in touch with us.
Here are the several ways you may get in touch with us:
Dial 703-445-3544 to get in touch with a member of the team. We're here to take your call whenever it comes in.
Use this online form to get in touch with us, and we'll get back to you as soon as possible.
We are here to assist you with any vehicle locksmith needs you may have. We are grateful that you have chosen to work with our company.