Fairfax Local Locksmith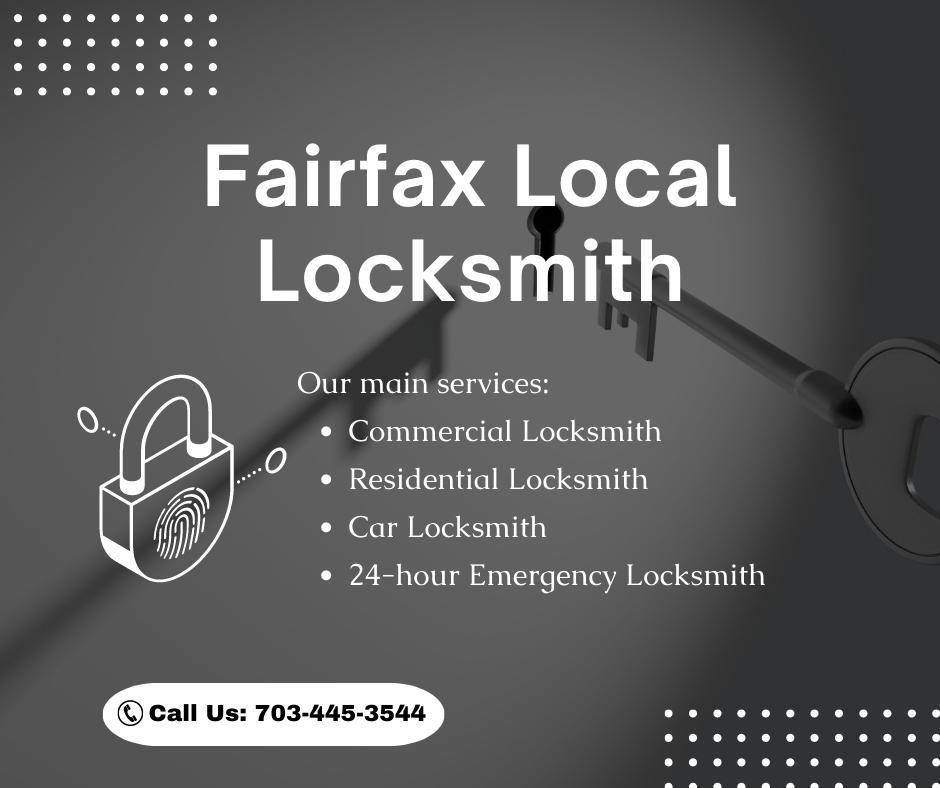 About Us
Welcome to Fairfax Local Locksmith! We are a full-service locksmith company serving the Fairfax, Virginia area. Our experienced technicians are here to help you with all your lock and security needs, from emergency lockouts to installing new locks and security systems. Fairfax Local Locksmith is committed to providing our customers with fast, reliable, and affordable service. Whether you need a simple lock repair or a more advanced security system installed, we have the expertise and experience to get the job done right. So if you need a reliable and trustworthy locksmith in the Fairfax area, look no further than Fairfax Local Locksmith. Call us today to schedule an appointment or get more information about our services.
Our Services
Commercial Locksmith in Fairfax, VA
Fairfax Local Locksmith provides a comprehensive variety of commercial locksmith services to keep your company safe and secure. From basic lock repairs to complicated security system installations, our team of skilled professionals has the knowledge and skills to handle all your lock and security requirements.
Lock installation and repair is one of the services we provide. We have the resources and knowledge to get the job done correctly, whether you need new locks placed on your doors or windows or you need to repair or replace existing locks. We can also rekey your locks if you have recently had a security breach or a staff change.
Our technicians provide a choice of high-security lock alternatives in addition to lock installation and maintenance to assist in safeguarding your company. We offer the newest technologies to keep your home safe, from keyless access systems to biometric locks.
Access control is another critical part of business security. We can assist you in implementing an access control system to guarantee that only authorized workers have access to certain parts of your company. This is particularly handy in delicate environments like server rooms or labs.
Residential Locksmith in Fairfax, VA
When it comes to home security, one of the first steps you can take is to have your locks inspected and serviced by a professional residential locksmith. Fairfax Local Locksmith will be able to inspect all the locks on your doors, windows, and any other entry points into your home.
Suppose you're looking to upgrade your home security. In that case, we can provide a range of services, such as installing high-security locks or changing existing locks. High-security locks are designed to provide superior protection against break-ins and burglaries. Our residential locksmiths can also install electronic locks, which use a keypad or fingerprint recognition to open the lock.
If you've lost a key or need to change the locks on your home, a residential locksmith can help. We can provide replacement keys and rekey existing locks, so you don't have to worry about anyone else having access to your home. We can also provide emergency lockout services, so you won't be locked out of your home if you lose your keys. You can also set up access codes that only you know, so you can rest easy knowing that no one else can gain access to your home.
Overall, our residential locksmith services give homeowners peace of mind that their homes are secure. From inspecting and servicing existing locks to installing high-security locks and access control systems, we can help ensure your home is safe and secure.
Auto Locksmith in Fairfax, VA
Whether you've lost your keys, left them in the car, or can't open the door, our auto locksmith can help you get back in your car and back on the road.
At Fairfax Local Locksmith, auto locksmiths specialize in repairing, replacing, and programming automotive locks and keys. We are trained in using specialized tools and techniques to gain access to vehicles and safely open them. In addition to unlocking cars, we can also make new keys for you if you've lost yours. This service is often much faster and more cost-effective than getting a new key from the dealership.
Our experienced auto locksmith can provide you with a variety of services. We can replace damaged or broken keys, cut new keys, and even program transponder keys. Transponder keys are becoming more common in modern vehicles and require special programming that only a professional auto locksmith can provide.
In addition to unlocking your car, our technicians can also provide other valuable services. Do you find yourself locked out of your car? We provide emergency roadside assistance, such as jumpstarting your car or providing fuel if you run out. We can also help you recover stolen keys or rekey your ignition to ensure your security.
24-Hour Emergency Locksmith in Fairfax, VA
We're here to assist whenever you need us, day or night, whether you're locked out of your house, business, or car. Our locksmiths can provide various services, including key duplication, lock rekeying, lock repair, and lockout service. We also offer emergency lock opening services as well as auto lockout services.
Our experienced technicians are licensed and insured and have the latest equipment to handle all locks. We use only the best quality parts and materials to ensure your security. Our technicians can come to your location, or you can call us directly to arrange an appointment. We endeavor to deliver the best customer service and satisfaction possible, and we promise that all of our work is finished on time and professionally.
We understand that emergencies sometimes happen during regular business hours, so our technicians are available 24 hours a day, 7 days a week. Our technicians will arrive promptly and be prepared to assist you with your needs. We also provide free estimates and consultations to ensure you get the best possible service for your situation.
No matter what type of emergency locksmith service you need, we are here to help. Contact us today to discuss your needs, and we will provide you with the assistance you need.
What makes Fairfax Local Locksmith the best?
Fairfax Local Locksmith is the finest option for all your locksmith requirements for various reasons. Here are a few examples of how we differ from the competition:
Fast response times
You do not want to wait hours for assistance when locked out of your house, automobile, or company. That is why we take pleasure in our quick response times. We will be there as soon as possible to get you back in, regardless of the time of day or night.
Highly trained and experienced technicians
All our technicians are properly licensed and insured and have completed thorough training to guarantee they are prepared to handle any locksmith issue. With years of expertise, you can be confident they have the knowledge and abilities to do the task correctly.
Affordable prices
We recognize that locksmith services may be costly, so we work hard to make our charges as cheap as possible. We provide cheap pricing with no hidden expenses.
Wide range of services
We provide a comprehensive variety of locksmith services, such as emergency lockouts, lock installation and repair, key duplication, and security system installation. Whatever your locksmith requirements are, we can assist you.
Customer satisfaction
Above all, we are devoted to ensuring that our clients are satisfied with the service they get. Our experts are kind, professional, and always prepared to go above and beyond to assure your complete pleasure.
Fairfax Local Locksmith is the best option for all of your locksmith requirements because of our rapid response times, expert professionals, low rates, a wide variety of services, and dedication to customer satisfaction.
Contact Us
Thank you for thinking about Fairfax Local Locksmith for all your lock and security needs. If you have any questions or would like to schedule an appointment, please do not hesitate to contact us at 703-445-3544.
We are also available 24 hours a day, seven days a week, for emergency assistance. If you need locksmith service, please complete the form below and inform us about your needs. We will provide you with an estimate as soon as feasible.
Thank you for deciding on Fairfax Local Locksmith! We are inspired to serve you.