Door Lock Change Fairfax, VA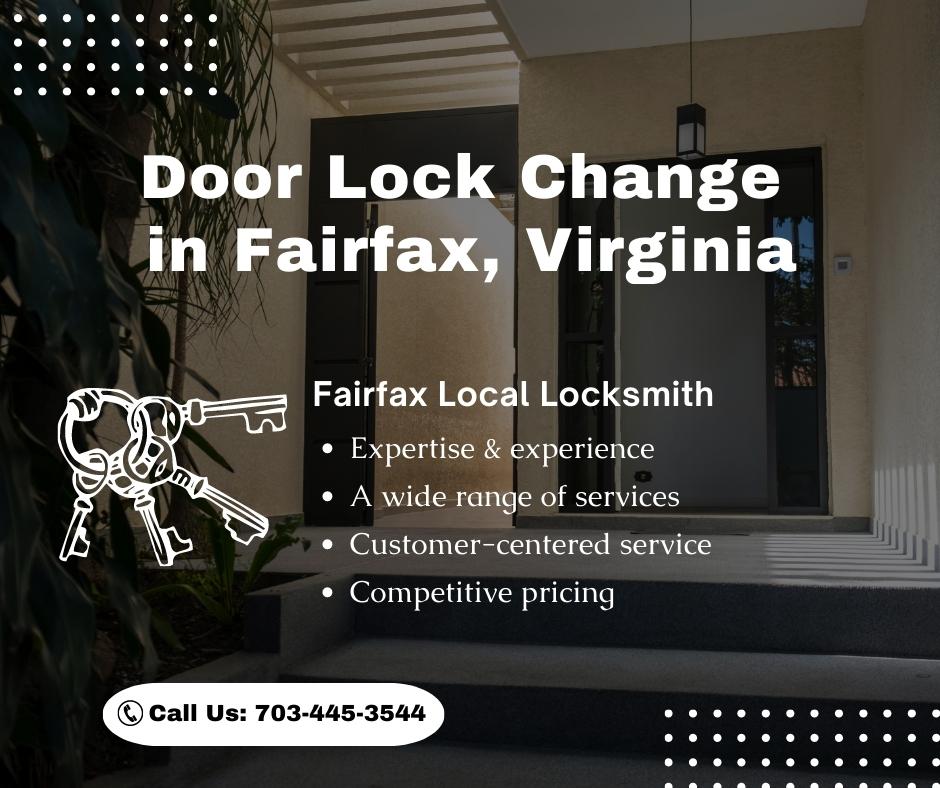 You should change your locks if you value the serenity that comes with being the only owner of the keys to your safety. This does not imply placing new locks on your doors or related difficulties. At a fraction of the expense of installing new brand locks, we may replace your existing keys with brand-new ones that only you can access. This is known as re-keying, and it is a secure and cost-effective method of restoring your security.
It entails removing the lock from the door, dismantling the key cylinder to its bare bones, replacing the old internal lock pins with pins that correspond to the new key, and then reassembling all of the components. It may seem not easy, but for experienced locksmiths like us, it's all in a day's work. Lock removal, cylinder disassembly, re-installation, and key cutting typically take 20 To 30 minutes for each lock. The typical re-keying operation takes less than two hours. Keys are created and cut on-site, allowing you to have the amount you need while being certain that you and only you have the keys to your locks.
Our Main Door Lock Change Services
Some of the specific services that we offer as part of our door lock change service include:
Lock installation: We are here to assist you if you need to replace the locks on your doors. We can assist you in determining which locks are most suitable for your requirements and install them rapidly and effectively.
Lock repair: If the one you currently have is broken or not working correctly, we are able to fix it right there and then. Whether a simple repair or a more sophisticated one, we have the skills and experience to get your lock working properly again.
Lock replacement: Lock replacement may be required in certain circumstances because it may be essential to replace a lock that has been damaged. Our locksmiths can assist you in selecting the lock that is most suitable for your requirements and installing it rapidly and effectively.
Rekeying: If you need help finding your keys and are worried about the safety of your house or place of business, we may re-key your locks to prevent other people from gaining access to your property. In order to do this, the mechanism on the inside of the lock must be modified so that it can only be opened with the new key.
High-security locks: Locks with increased resistance to being tampered with or broken into are included in our selection of high-security locks. These locks are available to you if you are searching for an additional layer of protection for your home or place of business.
Types Of Door Lock We Provide
Different kinds of door locks may be purchased, and they all have advantages. Some of our most popular varieties are as follows:
Deadbolts: Deadbolts are one of the most popular types of door locks because they are robust, reliable, and relatively inexpensive. They consist of a metal bolt that extends into the door frame when locked, making it difficult to force the door open. Deadbolts can be either single-cylinder or double cylinders. Single-cylinder deadbolts have a keyhole on one side, and a thumb turns on the other, while double-cylinder deadbolts have keyholes on both sides and require a key to unlock them from either side.
Knob locks: Knob locks are another popular choice for doors. They consist of a knob that you turn to lock and unlock the door. Knob locks are generally easier to use than deadbolts but are also less secure.
Lever handle locks: Lever handle locks are similar to knob locks, but instead of a knob, they have a lever handle that you push down to lock and lift to unlock the door. Lever handle locks are often used on doors accessed by people with disabilities because they are easier to use than knob locks or deadbolts.
Keyless entry systems: Keyless entry systems allow you to unlock your doors using a code or a wireless key fob. These systems are convenient because you don't have to worry about carrying around a key, but they can also be less secure than traditional locks if the code or key fob is stolen or compromised.
Biometric locks: Biometric locks use your unique physical characteristics, such as fingerprints, to unlock the door. These locks are very secure but can be more expensive than other types.
Smart locks: Smart locks are a keyless entry system that can be controlled and accessed remotely using a smartphone app. They can also be integrated with other smart home devices and systems.
Ultimately, the best type of door lock for you will depend on your security needs and budget. You should always check with Fairfax Local Locksmith to choose the finest lock for your requirements.
Why Choose Us
Our door lock re-keying service is committed to offering exceptional service. Some of the many reasons you should choose us to replace your locks are as follows.
Rapid response time: When you need a lock change, you want to get assistance immediately. Since this is the case,
we work hard to get to you as quickly as possible, usually within 30 minutes.
Expertise and experience: All of our locksmiths are entirely licensed and insured and have years of business expertise.
We exclusively utilize high-quality products and equipment to give our clients the finest service possible.
A wide range of services: We provide various lock change services, such as lock installation, repair, replacement,
re-keying, high-security locks, key duplication, and more. Whatever your requirements are, we have a solution for you.
Customer-centered service: Our door lock changing service is dedicated to giving the finest service possible to our clients.
We are always delighted to answer your questions and offer you the knowledge you need to make educated choices regarding your lock-changing requirements.
Competitive pricing: All of our lock-changing services are priced competitively. Everyone,
regardless of income, should have access to high-quality lock change services.
Contact Us
You can count on us to assist you with changing the locks on your doors. Please don't wait to get in touch with us for answers to your questions or to set up an appointment. Call our office at 703-445-3544 to talk with a member of our staff. Every hour of every day, we're here to take your call.